Should You Worry About Those Worms Found in Costco's Salmon? We Asked an Expert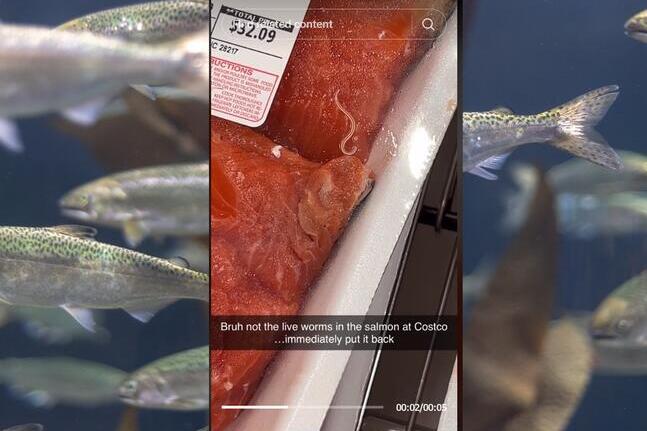 A new video filmed in the seafood aisle of a Costco location has opened up a can of worms for customers of the big box retailer — quite literally. In a clip making the rounds on social media, what appears to be a small, translucent worm can be seen burrowing its way into a piece of wild sockeye salmon sealed with plastic wrap. Naturally, the sighting of the tiny, wiggly creature caused some alarm bells to go off for Costco shoppers, who began asking the food safety questions on all of our minds: "What is that worm? Should you be worried?" Determined to get to the bottom of the surprising sighting, we reached out to Matthew Stasiewicz, Associate Professor of Applied Food Safety at University of Illinois, for some answers.
What Kind of Worms Are in Costco's Salmon?
Simply put, the translucent worm visible in the TikTok video is not a worm, exactly — it's a parasite. "Classically, wild-caught fish could have issues with live parasites," Professor Stasiewicz explains. "That [is] part of the risk associated with sushi."
One way to avoid a run in with such parasites is to choose a farmed option over a wild-caught option next time you're in the seafood aisle. "Something as large as a visible worm would not be likely for farmed fish," he says.
Should You Worry About Worms in Costco's Salmon?
While spotting a live parasite at Costco may be unsettling at first, rest assured they are nothing to worry about. "Worms are gross, but once cooked, the fish would likely be fine to eat." Alternatively, low temperatures are just as effective as killing parasites as those required for cooking, which may be helpful for dishes that call for raw fish. "Freezing sushi fish at some point before [serving] will kill the parasites," says Stasiewicz. 
Don't let a common and largely harmless parasite discourage you from enjoying Costco's salmon. Whether you bake it, grill it, or air fry it, there are so many delicious ways to prepare fresh salmon out ther